Programs & Activities
State Charity
NASC officially supports two charitable causes. The first is Make-A-Wish. Special recognition will be given to councils who raise the most money for this noble cause at the annual NASC state convention.
---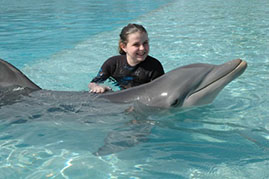 Candidates for NASC State President choose a charity as part of their platform, and member school councils are encouraged to support that charity throughout the year.
Please send funds raised for Make-a-Wish to:
Make-a-Wish Foundation of Nebraska
11926 Arbor St., Suite 102
Omaha, NE 68144
Be sure to indicate that you're a member of NASC. That way, your school will be recognized at State Convention!
Check out what other schools around the state are doing! Kaitlynn at North Platte High School reports her school has done the following projects:
1- Fill-The-Gym
We did a campaign to fill the gym for one of our home basketball games. We made the admission free, but had a chili feed in the commons which you have to go through to get to the gym. It was $5 a person, or a free will donation. We had the highest attendance of any game of the season and we made a good profit for Make-A-Wish.
2- Car Wash
We have a "topless" car wash every summer. Our council washes the bottom of your car for free, but you have to pay for us to wash the TOP half.
3-Tailgate
We host a tailgate party before the first football game every year. Our local bank donates and grills all the hamburgers and hotdogs. Members each bring a case of pop and make a few dozen cookies to include with the price of a meal. The radio station broadcasts from our party and advertises Make-A-Wish. It is our most successful fundraiser every year.