Programs & Activities
State Charity
NASC officially supports two charitable causes. The first is Make-A-Wish. Special recognition will be given to councils who raise the most money for this noble cause at the annual NASC state convention.
Beginning in 2013, the NASC state president launched an initiative for councils to take part in supporting local cancer treatment centers. Student council groups are encouraged to focus on providing amenities for patients undergoing cancer treatments in our local communities.
A single chemotherapy treatment takes 3 to 4 hours to complete. Many patients spend that time alone, uncomfortable, and without anything to keep their minds off the destruction occurring inside their bodies. Donations through fundraisers will provide a resource for cancer centers to purchase supplies such as warm blankets, games, new TV's or DVD players, books, etc. to make the time patients spend in cancer centers throughout Nebraska more comfortable. By raising money, having school book drives, donating home-made blankets, or simply volunteering to visit with patients as they receive chemotherapy treatments, student councils can make a difference the lives of patients in their own community. NASC schools who participate in will be honored at the State Convention.
In order to make all donations tax deductible and to keep track of every member school's contributions, please complete the online form or print and mail the document using the links below. 100% of the funds your council raises will be forwarded to the treatment center you designate. We ask that you use the provided form to and donate through the Launch Leadership Foundation so we can accurately track the statewide impact made by Nebraska student councils.
---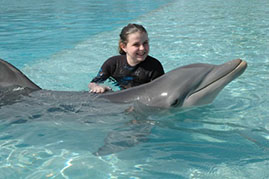 Candidates for NASC State President choose a charity as part of their platform, and member school councils are encouraged to support that charity throughout the year. Your state president has designated both the Make-a-Wish Foundation of Nebraska and your local cancer treatment center as the designated charities:
Please send funds raised for Make-a-Wish to:
Make-a-Wish Foundation of Nebraska
11926 Arbor St., Suite 102
Omaha, NE 68144
Please send funds raised for your local cancer treatment center to:
Launch Leadership Foundation
1201 Infinity Court
Lincoln, NE 68508
Be sure to indicate that you're a member of NASC. That way, your school will be recognized at State Convention!
Check out what other schools around the state are doing! Kaitlynn at North Platte High School reports her school has done the following projects:
1- Fill-The-Gym
We did a campaign to fill the gym for one of our home basketball games. We made the admission free, but had a chili feed in the commons which you have to go through to get to the gym. It was $5 a person, or a free will donation. We had the highest attendance of any game of the season and we made a good profit for Make-A-Wish.
2- Car Wash
We have a "topless" car wash every summer. Our council washes the bottom of your car for free, but you have to pay for us to wash the TOP half.
3-Tailgate
We host a tailgate party before the first football game every year. Our local bank donates and grills all the hamburgers and hotdogs. Members each bring a case of pop and make a few dozen cookies to include with the price of a meal. The radio station broadcasts from our party and advertises Make-A-Wish. It is our most successful fundraiser every year.