History
History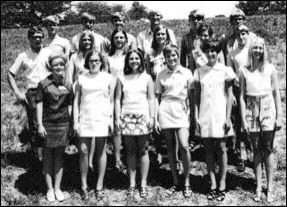 Learn to Lead.
The Year: 1951
The Meeting: Lincoln Northeast High School
The Task: Organize the Nebraska Association of Student Councils
That first year, 31 schools joined the fledgling organization. Dr. Don Twiford, Director of Guidance with the Nebraska State Department of Education, served as the first Executive Secretary. He was succeeded by Mr. William Jacques, Hastings High School Guidance Director, and Mr. Harland Taylor of Lincoln Northeast High.
Dr. John Lux, then of University High School and an Assistant Professor at the University of Nebraska, took over as Executive Secretary in spring of 1960. The first Nebraska Leadership Workshop, a one-day conference, took place during Dr. Lux's tenure on September 9, 1961, at the University of Nebraska in Lincoln. In 1965 Francis Colgan assumed the position of Executive Secretary for one year. Dr. Ron Joekel, Associate Professor (and later Associate Dean) of UNL Teachers' College, took over as Executive Secretary at the NASC State Convention at Omaha Westside High School in November of 1966.
During Dr. Joekel's tenure, many changes grew the association, including the expansion of the Summer Leadership Workshop to its current five-day format. In 1976 and for the first time, Nebraskans planned and carried out the entire Workshop without the use of an outside consultant. It was an expression of a basic NASC belief: leadership training occurs best through the combined efforts of our own leaders. NASC believes that Nebraska has the talent and knowledge to address the needs of our own state's students. Workshop continued to grow and in 2013 the volunteers who run it founded Launch Leadership, which continues to work with NASC to promote and develop youth leadership.
As all leaders know, change is good, but never certain. However, one fact remains; NASC's programs continue to change, services continue to improve, attendance at events continues to rise, and we're excited to have YOU Learning and Leading with us into the future.