Workshops
School Advisor Information
Advisor Questions Answered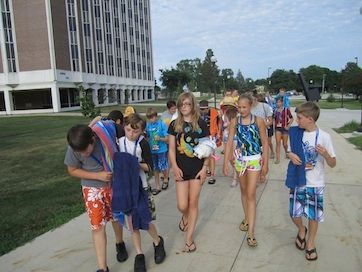 If you're a student organization advisor or coach in a middle school or high school, the NASC Summer Leadership Workshop is the best way to start your year off right. Students coming back from Workshop are fired up and ready to contribute to their school or community.
What is Workshop?
The NASC Summer Leadership Workshop is a 5-day, 4-night immersive leadership development experience for junior high and high school students. Held at Wayne State College in Wayne, NE, students get hands-on leadership training and essential networking time with other student leaders from across the state.
What Your Students Will Learn
Our completely original curriculum is based on hands-on, experiential learning that lets students come to insights and conclusions on their own, guided by facilitators from our volunteer staff. All activities are developed by the NASC Volunteer Staff, with some activities being decades-long traditions and some being brand new experiences we've developed to create a unique experience for this summer.
The curriculum is based on seven "skill tracks." Every single minute of the day – from co-op activities to brushing your teeth – is designed to hit on one or more of these skill tracks. At the end of the week, students will leave Wayne with a firm grasp of these essential leadership concepts and how to apply them in their every day lives.
Back to School
As an advisor or coach, you know that students learn best when they're motivated and engaged. Those are exactly the qualities we'll instill in your students when they come back to school in the fall. Students leave Workshop with a passion and dedication to get involved and find an outlet for their newly-learned skills and realizations about themselves. We call that passion "the fire," and when students leave Workshop, we implore them to go back to their schools and communities and "spread the fire." When that first bell rings in the fall, students who went to Workshop are ready to hit the ground running.
In addition to enthusiasm and passion, students return from Workshop with real, tangible ideas for everything from fundraiser events to group bonding activities to dance themes. Our curriculum focuses heavily on real-world application. So they don't just leave Workshop with a bunch of theory, they leave it with an understanding of how to apply what they learned when the school year starts.
The Volunteer Staff
Formerly the NASC Volunteer Staff, Launch Leadership is a new non-profit leadership development group. Consisting of the same Volunteer Staff, Launch coordinates and facilitates leadership services for groups like NASC, and others. We're the same friendly faces, with the same activities and love for leadership — just with a new name and the ability to expand our reach to other leadership organizations. Questions about Launch? Contact Executive Director Lincoln Arneal at 402-440-6844 or lincoln@launchleadership.org.
Our all-volunteer staff is comprised of professional educators, college students and professionals from a variety of other walks of life – business owners, TV producers, non-profit workers and more. We're a diverse staff with diverse backgrounds, but we're all former Workshop delegates and we're all dedicated to creating a meaningful, memorable experience for your student.
Students work primarily in small groups led by two volunteer staffers, but will have plenty of time to interact with our 70-volunteer staff over the course of the week.
The Setting
We're proud to hold Workshop at Wayne State College in Wayne, NE. Students love the opportunity to stay in real college dorms and live on a real college campus for a week. Workshop intrinsically prepares students for college life, complete with a roommate they won't know going into the week and all meals in a real college cafeteria. They'll also work in their small group with students they don't know. We do this to ensure that each student steps out of their comfort zone to meet new friends and take in new experiences with an open mind. And in our experience, that doesn't take long.
Travel and Cost
While we do not offer bussing or transportation to Workshop, we strongly encourage carpools with students from the same (or neighboring) schools and can help to arrange those if you'd like.
Our costs are based on when you register. We work diligently to be an affordable summer enrichment option. Our staffers are volunteers, our overhead is minimal. The costs for Workshop go to paying for room and board, as well as any materials needed for the week – including the t-shirt and leadership guide your student will take home from Wayne.
Need-based scholarships are available for all students, and we strongly encourage you to apply if you are interested. The scholarship application is located alongside the traditional Registration Form, which you can download below.
Additionally, many student groups find success in asking their administration to pay for a portion of their registration fees. And other groups have had great success in holding fundraisers to help pay for registration.
How to Register
If you have any remaining questions, please direct them to Workshop Director Keith Wysocki by emailing workshop@launchleadership.org or calling 402-310-8593.