Workshops
Parents Information
Parents Questions Answered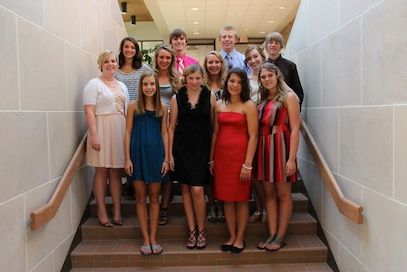 Thank you for taking the time to learn about the NASC Leadership Workshop for your student. This page contains some basic information you might like to know before signing your student up – as well as some words from parents like you.
What is Workshop?
The NASC Summer Leadership Workshop is a 5-day, 4-night immersive leadership development experience for junior high and high school students. Held at Wayne State College in Wayne, NE, your student will experience hands-on leadership training in a collegiate environment with a highly-trained, diverse staff.
The NASC Volunteer Staff
For the week of Workshop, your students will be under the tutelage of our all-volunteer staff. The staff is comprised of professional educators, college students and professionals from a variety of other walks of life – business owners, TV producers, non-profit workers and more. We're a diverse staff with diverse backgrounds, but we're all former Workshop delegates and we're all dedicated to creating a meaningful, memorable experience for your student.
Your student will work in a "co-op," a small group led by two volunteer staffers who they'll connect closely with all week. They'll also interact with many of our approximately 70 volunteers over the course of the week, so there will be a variety of mentors from whom your student can learn.
---
Sara Brown, mother of current Workshop delegate

"As a parent, what I value most about NASC is the caliber of the staff. Their enthusiastic teach-and-trust style, and their motivation and compassion allowed my son to grow: in leadership, motivation, attitude, enthusiasm, understanding, and compassion. NASC's staff instilled in my son the FIRE and desire to shine at inspiring and leading others!"
---
Safety and Security
We have a full-time first aid staff member on campus and on-call at all times, whose primary job in Wayne is to take care of any medical situation. That staffer is aided by a group of several staffers who are certified in First Aid and CPR. A trained first aid staffer is stationed in each building at all times. Additionally, the campus is located next door to a hospital.
The Wayne State College Campus Security team is on duty for the entire week, 24/7. They are on call to respond to any situation, though we are proud to say we've never needed them for anything more than to unlock a building. The volunteer staff is also dispersed across the campus to monitor things at all times.
What Your Student Will Learn
We have a tried-and-true formula of curriculum at NASC. It's based on hands-on, experiential learning that lets students come to insights and conclusions on their own, instead of having answers fed to them in a lecture. All activities are developed by our own NASC Volunteer Staff, with some activities being decades-long traditions and some being brand new experiences we've developed to create a unique experience for this summer.
The curriculum is based on seven "skill tracks." Every single minute of the day – from co-op activities to brushing your teeth – is designed to hit on one or more of these skill tracks. At the end of the week, your student will leave Wayne with a firm grasp of these essential leadership concepts and how to apply them in their every day lives.
The Setting
We're proud to hold Workshop at Wayne State College in Wayne, NE. Students love the opportunity to stay in real college dorms and live on a real college campus for a week. They even like eating in a real college cafeteria. No, seriously. Part of our Workshop is intrinsically aimed at preparing students for college, and what better way than to have Workshop on a college campus?
Your student will stay in a dorm room at WSC with another student who they won't know before Workshop. They'll also work in their small group with students they don't know. We do this to ensure that each student steps out of their comfort zone to meet new friends and take in new experiences with an open mind. And in our experience, that doesn't take long.
---
Lori & Jerry Connot, parents to current and former NASC delegates

"All three of our kids have been involved with NASC at multiple levels (JAM, SLW, ALW & Staff). They each view Workshop as a profoundly positive and beneficial experience which has made a long-term impact on their lives. They insist we plan our summer around Workshop – honestly, we've rearranged family vacations, so nothing interfered with Workshop!

NASC Workshop is an incredible bargain. The quality leadership training and lifetime networking building are productive investments in our kids' futures."
---
Travel and Cost
While we don't offer bussing or transportation to Workshop, but we strongly encourage carpools with students from the same (or neighboring) schools and can help to arrange those if you'd like.
Our costs are based on when you register. We work diligently to be an affordable option and an outstanding value for your summer enrichment dollar. Our staffers are volunteers, our overhead is minimal. The costs for Workshop go to paying for room and board, as well as any materials needed for the week – including the t-shirt and leadership guide your student will take home from Wayne.
Need-based scholarships are available for all students, and we strongly encourage you to apply if you are interested. The scholarship application is located alongside the traditional Registration Form, which you can download below.
How to Register
If you have any remaining questions, please direct them to Workshop Director Matt Spitsen by emailing workshop@nasc.org or calling 402-202-3918.
If you're ready to sign up you can Download our Registration Form or Register Online. We hope to see your students in Wayne!